GIG's Building Lights Up with Kuwait Flag in Celebration of National Days
---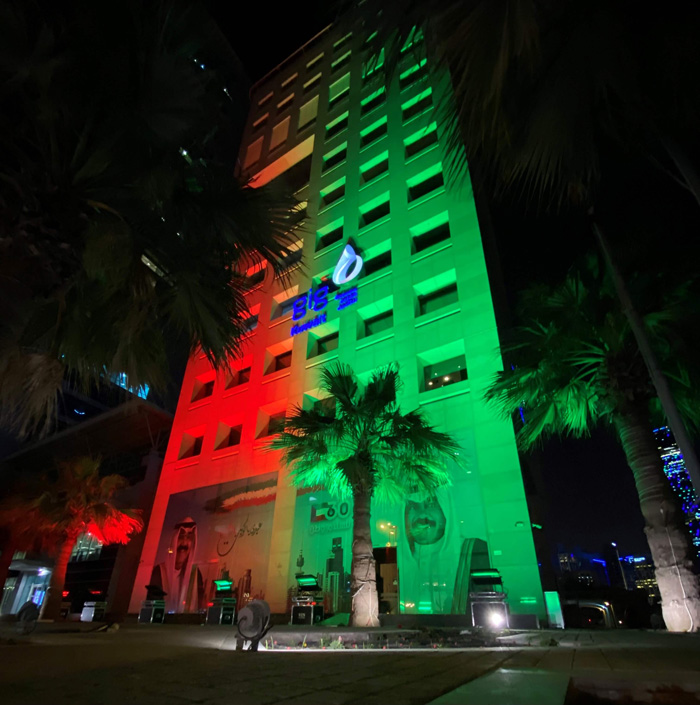 Gulf Insurance Group-Kuwait (GIG-Kuwait) announced its participation in the celebrations of the 60th Independence Day and the 30th Liberation Day of Kuwait. On this occasion, the company lights up its building in colors of the Kuwaiti flag marking the national holidays kicked off under the theme "peace has a home".

Salman Al-Nejadi, Head of Marketing & PR at GIG-Kuwait, said: "We take pride in annually participating in Kuwait's national celebrations and holidays, especially as it is an integral part of our culture and our ongoing social responsibility throughout the year. GIG-Kuwait is keen on engaging with society on such occasions to express love for Kuwait, while spreading awareness as part of its national and social responsibility to enhance the meaning of belonging and citizenship."
He stressed the importance of considering health and safety precautions for COVID-19 through wearing facemasks and disinfecting all departments and branches to ensure the safety of employees and customers, not to mention raising the spirit of sharing the love of this country and showing responsibility of individuals and society towards fighting the pandemic.